The Opportunity
In August of 2019, Food Lion announced a major initiative to fight hunger by committing to donate one billion meals by 2025 (BusinessWire.com). This cause spoke to Food Lion leadership when they discovered 1 in 8 neighbors and 1 in 6 children were suffering from food insecurity, which is defined by Feeding America as a household's inability to provide enough food for every person to live an active, healthy life.
"At Food Lion, we believe that no one should have to choose between dinner and rent or gasoline and buying groceries, and we know far too many of our neighbors are faced with those difficult decisions… Hunger knows no bounds. So, Food Lion is committed to nourishing our neighbors and setting them up for success in life and we couldn't be more proud to take on this incredibly important mission in an even bigger, more impactful way."
Food Lion Feeds is tackling this issue in a variety of methods but one key area which has come to the surface during Food Lion's "One Billion Meals" pledge is sport-centric partnerships. Being headquartered on the East Coast and partnered with the ACC, Food Lion had access to the premier brands in the collegiate and professional sports space. To drive maximum awareness and exposure for the mission, Clemson became an ideal partner to connect with individuals in the upstate and across the region.
The Solution:
Food Lion Feeds collaborated with Clemson Sports & Campus Marketing on two unique campaigns translating collegiate athletic performance into direct hunger relief:
Score to Give More (Basketball – Free Throws) & Sack to Give Back (Football – Sacks)
After discussing the key objectives with Food Lion and learning more about their focus in athletic programming, Clemson Sports and Campus Marketing (CS&CM) went to the drawing board. Starting in the winter of 2019, CS&CM helped to ideate, develop, and launch "Score to Give More"; this initiative connected Food Lion's goal of meal donations and Clemson's Men Basketball free throw success. For each free throw made, Food Lion Feeds donated 200 meals to Golden Harvest Food Bank.
Noting the success of this programming with Clemson, in the Summer of 2020, Food Lion committed to adding another campaign to their Clemson portfolio. Food Lion had previously implemented the "Sack to Give Back" initiative at other properties. The premise of this promotion was each Quarter Back Sack made would equate to 1,000 meals donated. These meals were to be donated to hunger relief partners such as Feeding America, Food Finder, Operation Homefront, and No Kid Hungry. While this campaign had already been constructed, the specific programming was to be determined and created by individual collegiate partners. CS&CM assisted in "Clemsonizing" the campaign so the mission would have greater exposure and impact amongst the mass Clemson fan base.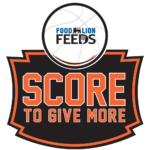 In both campaigns, a variety of platforms and mediums were used to support Food Lion's objective of reaching South Carolinians and Clemson fans across the region. The three primary methods of promotion included Clemson Tigers Radio Network programming spanning the entire state, on-site promotion through high-visibility in-venue digital signage, and integrations on official Clemson Tigers' social media.
Radio was a key component of the campaign as Clemson Fans received real-time updates on how many meals Food Lion Feeds was able to donate to local food banks. Food Lion's live reads were spread across game day programming, including both pre- and post-game shows as well as the in-game broadcast following every Clemson sack and free throw. CS&CM took these radio integrations a step further by utilizing Clemson personality and "Voice of the Tigers" – Don Munson. Munson, a household name throughout the Clemson Family, was able to organically celebrate both Clemson's athletic performance and the direct impact being made towards Food Lion's commitment to hunger relief.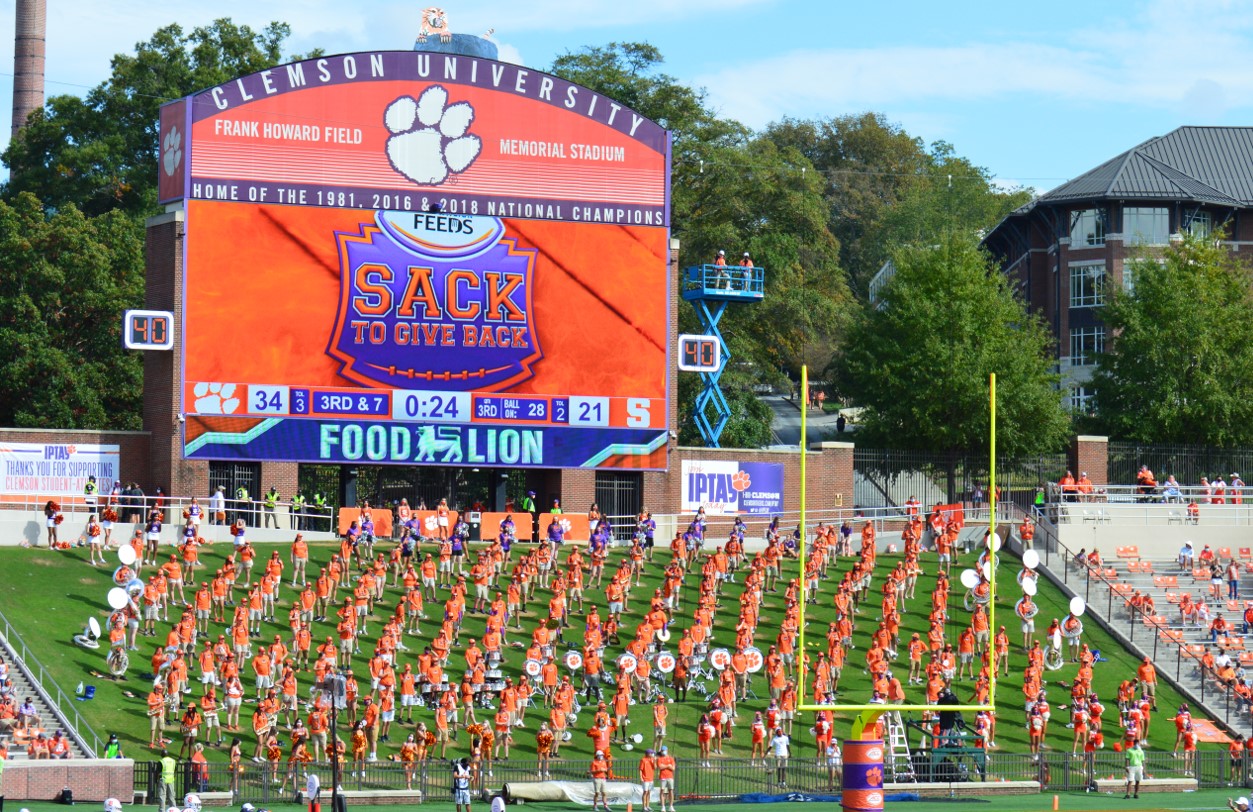 As for on-site promotion, CS&CM leveraged high-visibility in-venue signage to support Food Lion's cause whenever the trigger occurred. In the case of football, for every sack an animated graphic would appear on both the LED ribbon board displays and three videoboards within Death Valley. For basketball, every time Clemson made a free throw, Littlejohn Coliseum was lit up via the center-court video boards which promoted Food Lion's 200 meal donation. TV-visible courtside signage was also present throughout each home game further amplifying awareness amongst TV viewers.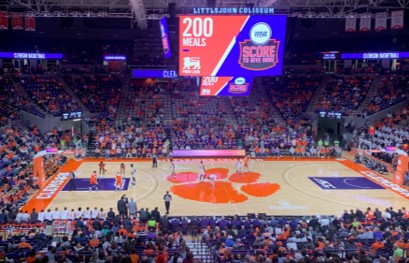 Lastly, CS&CM leveraged social media to announce the beginning of each campaign along with one concluding social post to share the total number of meals Clemson and Food Lion's partnership was able to donate in the fight against hunger.
The Results:
The Food Lion Sack to Give Back and Score to Give More programs were both regarded as an overwhelming success.  In total, the two initiatives went on to provide over 75,000 meals to the local community in 2020.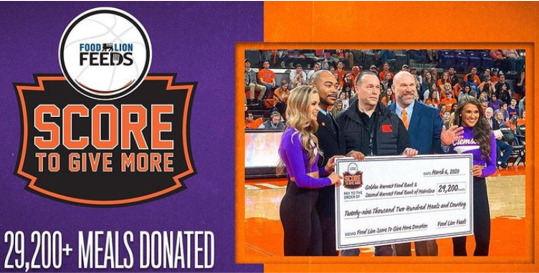 Score to Give More: ​Clemson Basketball was able to make 146 free throws in the duration of the campaign which added up to 29,200 meals to be provided to our local community. Despite a late start to the program, Clemson was still able to achieve an impressive 97% of its original 30,000 meal donation goal for the 2019-2020 season.
Sack to Give Back: ​Clemson Football accomplished 38 sacks in the regular season surpassing the original goal and cap of 30,000 meals. ​CS&CM was able to help Food Lion further their initiative extending it into the post season where Food Lion generously doubled their meals. Following six Clemson Tigers sacks in the ACC Championship and two more in the Allstate Sugar Bowl, Food Lion went on to donate an additional 16,000 meals in the post season.